The Work Life Balance You Deserve
Here at ncgCARE, we value our employees as much as the work they do. We understand the need to have an optimal work life balance allows our employees to face each day with passion, dedication, and knowledge to improve lives.

Learn more about how we value our employees and can provide you an opportunity to find a career you love for life.
Free, industry leading trainings to meet the needs of you and your colleagues or guests.
Good Training Is Easy to Find!
In order to care for our clients in the best possible manner, we must always be looking to improve ourselves and stay current in an ever-changing field. Training, however, can be infrequent, expensive, and all too often unimpressive. For this reason, The ncgCARE Institute has created the professional development series as a way to ensure that communities, agencies, and all human service professionals have access to excellent training and development opportunities.
Formats:
​
Keynote Program
The Keynote program offers speakers from ncgCARE's speaker bureau to provide flexible trainings on a variety of relevant topics. These trainings may be condensed to a single hour or consist of a full day. The Keynote program is available free of charge and conducted in the comfort of your agency or conference venue.
Lunch and Learn Program
Need training but don't have a lot of time? Let ncgCARE speakers come to your agency for an hour-long training over lunch. Better yet, we'll bring the lunch!
​
Continuing Education (CEU) Program
In collaboration with the Virginia chapter of the National Association of Social Workers (NASW-VA), ncgCARE is proud to offer occasional training sessions with the benefit of CEUs provided by NASW. The CEU program is provided for a fee, of which 100% goes to support the NASW-VA.
Trainings Offered
English
How do I register for the online Human Rights Summit?
---
It is very simple. You only need to complete the registration form.
You will then receive a confirmation e-mail and, a few days before the Summit, we
will send you the link to access the virtual event on the HOPIN platform.
---
How do I sign up on Hopin?
---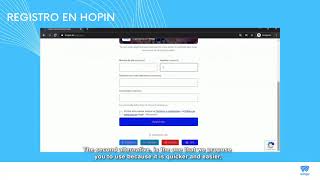 ---
What will the language of the event be?
---
We do not want you to miss anything during the online Human Rights Summit 2021.
The full agenda for the event will therefore be bilingual Spanish/English. This
means that every thematic session will be streamed in its original language, but
there will be another room with the same name in the second language (with
simultaneous interpretation). You will be able to ask questions and participate in
your own language in both rooms.
---
Can I add the talks I am most interested in to my calendar?
---
Yes! Once you receive the HOPIN link to the event and you have registered on the
platform, you may choose the talk you are most interested in and add it to your
calendar with one click.
---
Can I choose the language of the talk?
---
All the talks of the event will be available in Spanish and English. Each talk will
appear on the agenda twice: in its original language and in the simultaneous
interpretation language. To choose the language in which you want to hear the talk,
all you have to do is go to the room listed in your language, at the scheduled time. If
your language is not the original language of the talk, you will see what is going on
in the original room, but you will hear a simultaneous interpretation. You will also be
able to write in the chat in your language. A moderator will send your question or
comment to the original room.
---
Can I see who is attending?
---
By clicking on the "People" tab on the menu located on the upper right side of the
screen, you will be able to search, select, and contact other people that signed up
for the event.
---
How does networking work?
---
Once you have logged in to the event (on Hopin), you will see the "Networking"
button on the left menu. By clicking it, you will have access–for the three days the event will last–to a dedicated space for automated individual meetings, similar to
FaceTime or Hangouts. When you access that option, Hopin connects you randomly
to a direct video call with another person, with whom you will be able to hold a
meeting (between 30 seconds and 3 minutes), in the language you chose upon
registration. You can extend the meeting by clicking the "Extend" button, which will
send a notification to the participant for them to accept or not your request.
You can also start private conversations via the chat function or schedule a meeting
with up to 5 people registered to attend the event.
---
Can I speak directly with the rest of the event attendees?
---
Once you have selected the person with whom you wish to speak directly, you may
enable the chat or video call function for a private meeting.Once you have selected the person with whom you wish to speak directly, you mayenable the chat or video call function for a private meeting.
You can also schedule a meeting for later with up to 5 people at a time or go to the
Networking option to randomly connect with one of the attendees who are in that
section at the same time.
---
How can I schedule a meeting?
---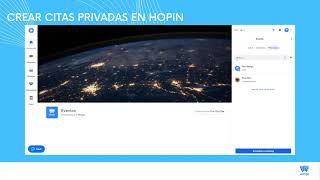 ---
Can I see which organizations are attending the event?
---
Yes. Once you have received the link and signed up on HOPIN, you may visit the
"Expo" section (accessible from the left menu). You will find all the partner
organizations of HIP's Migration and Forced Displacement Program there, sorted
based on the migration flow that they assist.
---
---
Español
¿Cómo me inscribo al Human Rights Summit online?
---
Es muy sencillo, solo se necesita completar el formulario de inscripción (link al form). Luego recibirás un e-mail de confirmación y unos días antes del Summit te enviaremos el link para acceder al evento virtual a través de la plataforma HOPIN.
---
¿Cómo me registro en Hopin?
---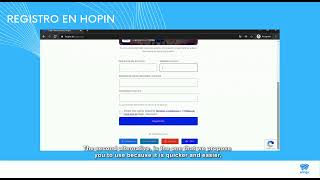 ---
¿En qué idioma será el evento?
---
No queremos que te pierdas nada de lo que suceda en el Human Rights Summit online 2021. Por eso la agenda completa del evento será bilingüe español/inglés. Eso quiere decir que cada sesión temática será transmitida en su idioma original y habrá otra sala con el mismo nombre en el segundo idioma, con traducción simultánea. En ambos espacios se podrá hacer preguntas y participar en tu idioma.
---
¿Puedo agendar las charlas que más me interesan?
---
¡Sí! Una vez que recibas el link al evento en HOPIN y te hayas registrado en la plataforma, puedes seleccionar la charla que más te interese y agendarla en tu calendario con un solo click.
---
¿Puedo elegir el idioma de la charla?
---
Todas las charlas del evento estarán en español e inglés. Cada charla aparecerá listada en la agenda dos veces: en su idioma original y en su idioma de traducción. Para elegir el idioma en el que quieres escuchar la charla sólo tienes que ingresar a la sala listada en tu idioma, en el horario de inicio. Si no es el idioma original, verás lo que sucede en la sala original pero escucharás una traducción en simultáneo. También podrás participar en el chat en tu idioma, y un moderador enviará tu pregunta o comentario a la sala original.
---
¿Puedo ver quiénes asistirán?
---
Haciendo click en la pestaña "Personas" del menú que se ve en la esquina superior derecha de la pantalla, podrás buscar, seleccionar y contactar a otras personas inscriptas en el evento.
---
¿Cómo se usa el networking?
---
Una vez que hayas ingresado al evento (dentro de Hopin), verás el botón de "Networking" en el menú de la izquierda. Haciendo click allí podrás aceder durante los tres días de duración del evento a un espacio pensado para reuniones individuales automatizadas, similar a FaceTime o Hangouts. Cuando ingresas, Hopin te conecta a una videollamada directa con otra persona, al azar, con quien podrás mantener una reunión de entre 30 segundos y 3 minutos, en el idioma que indicaste como preferencia en tu inscripción. Puedes extender la reunión haciendo clic en el botón "Extender", que enviará una notificación a la persona participante para que acepte o no tu propuesta. También puedes iniciar conversaciones privadas por el chat o agendar una reunión con hasta 5 personas inscriptas en el evento.
---
¿Puedo hablar directamente con el resto de asistentes del evento?
---
Una vez seleccionada la persona con la que quieres hablar en forma directa, podrás habilitar la función de chat o videollamada para un encuentro privado.
También puedes agendar una reunión para otro momento con hasta 5 personas por vez o ingresar al área de Networking para conectarte al azar con alguna de las personas que ingrese en el mismo momento a esta sección .
---
¿Cómo agendo una reunión?
---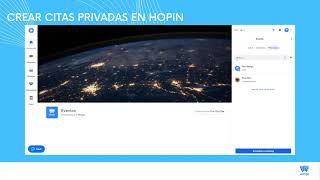 ---
¿Puedo ver qué organizaciones participan del evento?
---
Sí, una vez que hayas recibido el link y te hayas registrado en HOPIN, puedes visitar la sección "Expo" (accesible desde el menú de la izquierda). Allí encontrarás a todas las organizaciones que participan del Programa de Migración y Desplazamiento Forzado de HIP, organizadas según el flujo migratorio al que asisten.
---
---